---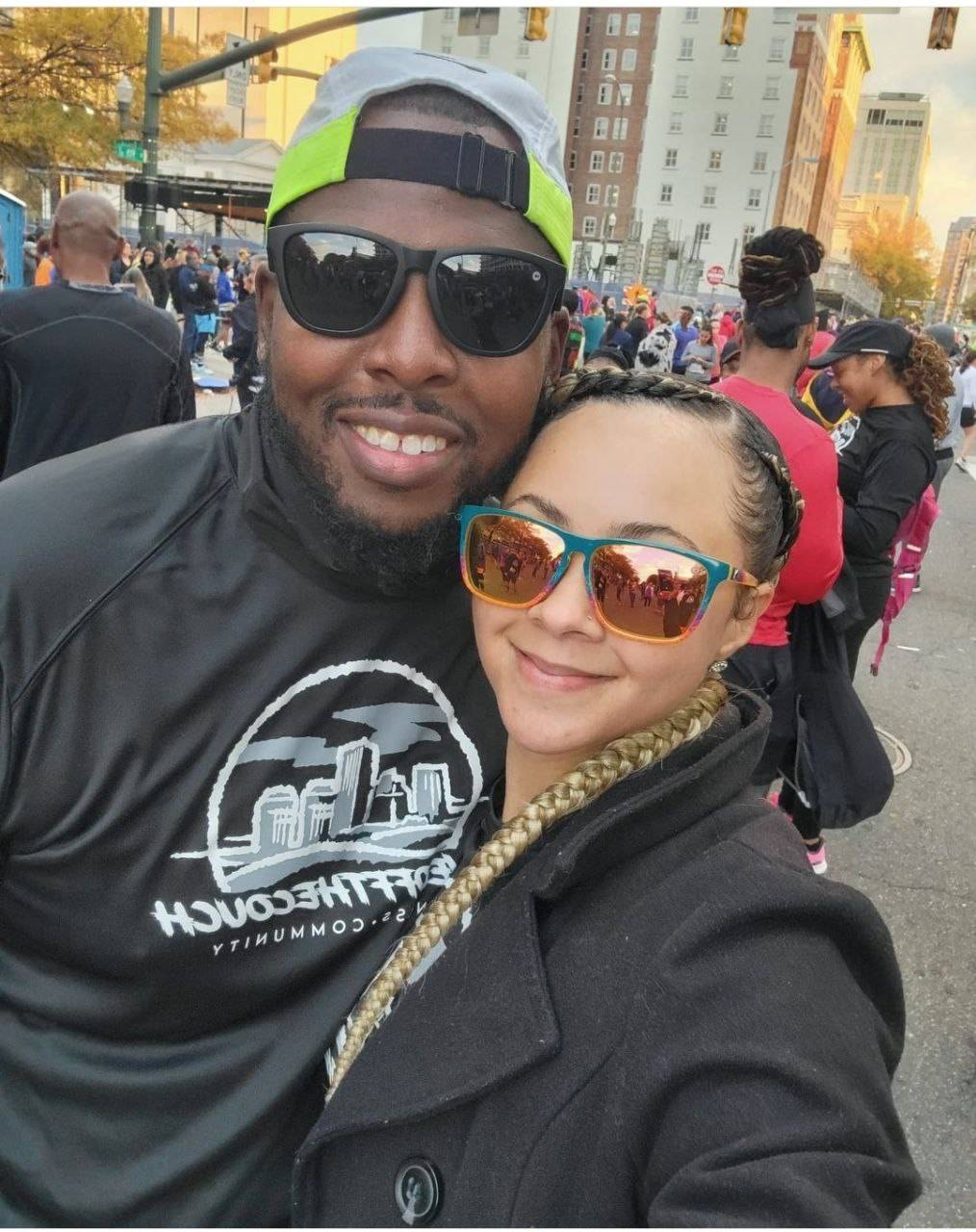 BY CHRIS FARLEY
I tell people that one of the biggest advantages of doing our podcast, Pace The Nation, is the opportunity to talk to amazing members of the running community. The podcast is a secret weapon to get to know some pretty darn inspiring people in this running world. This past weeks show, was one of my favorites. Julie and I sat down with Anthony and Tara Clary of the Richmond based running club, We Off The Couch.
Anthony and I had an immediate connection. He is doing good in his community in Richmond through running. He is passionate about his hometown. He is positive and uplifting. He is using running as a vehicle to change people's lives.
In 2014, Anthony needed to change his life. He had ballooned up to 300 pounds and doctors labeled him as prediabetic. Statistics would say medication would be the next step for someone of his health in his early 30's. Statistics would also not give him a chance to live a ACTIVE full life. Good thing Anthony was never destined to be a statistic.
---
As a High School and College football player, Anthony was never a runner. He started to run because of the health scare. It quickly became his favorite workout. Along with his wife Tara, that started to run together. Then the pandemic hit, and they invited some friends. Then more and more people started to show up. More and more lives were positively impacted by the Clary's. "I might not have ever been a football player if I discovered running early in life" Anthony said on Pace The Nation. The same Anthony who now is 100 pounds lighter and not on diabetes medication.
Statistics also say that running isn't an activity that most intercity people participate in. Tara said on Pace The Nation, "Running has been an elitist sport, reserved mostly for the upper middle class whites… Our group gives a voice to those who have been underrepresented".
She's right. But I think because of groups like We Off The Couch, that is changing. You can go to one of their weekly runs and see 80+ people on a Wednesday now. Most of those people who weren't running in the past. Most of those people's lives have been changed for the better because of Anthony and Tara Clary.
I often tell my staff this: "Running is our Secret Weapon in life". We can deal with anything that comes our way, as long as we are able to be active and get a run in. Everyone who runs knows what I'm talking about. Everyone who doesn't might not understand…. Yet…
Until they go to a group run with We Off The Couch.
---