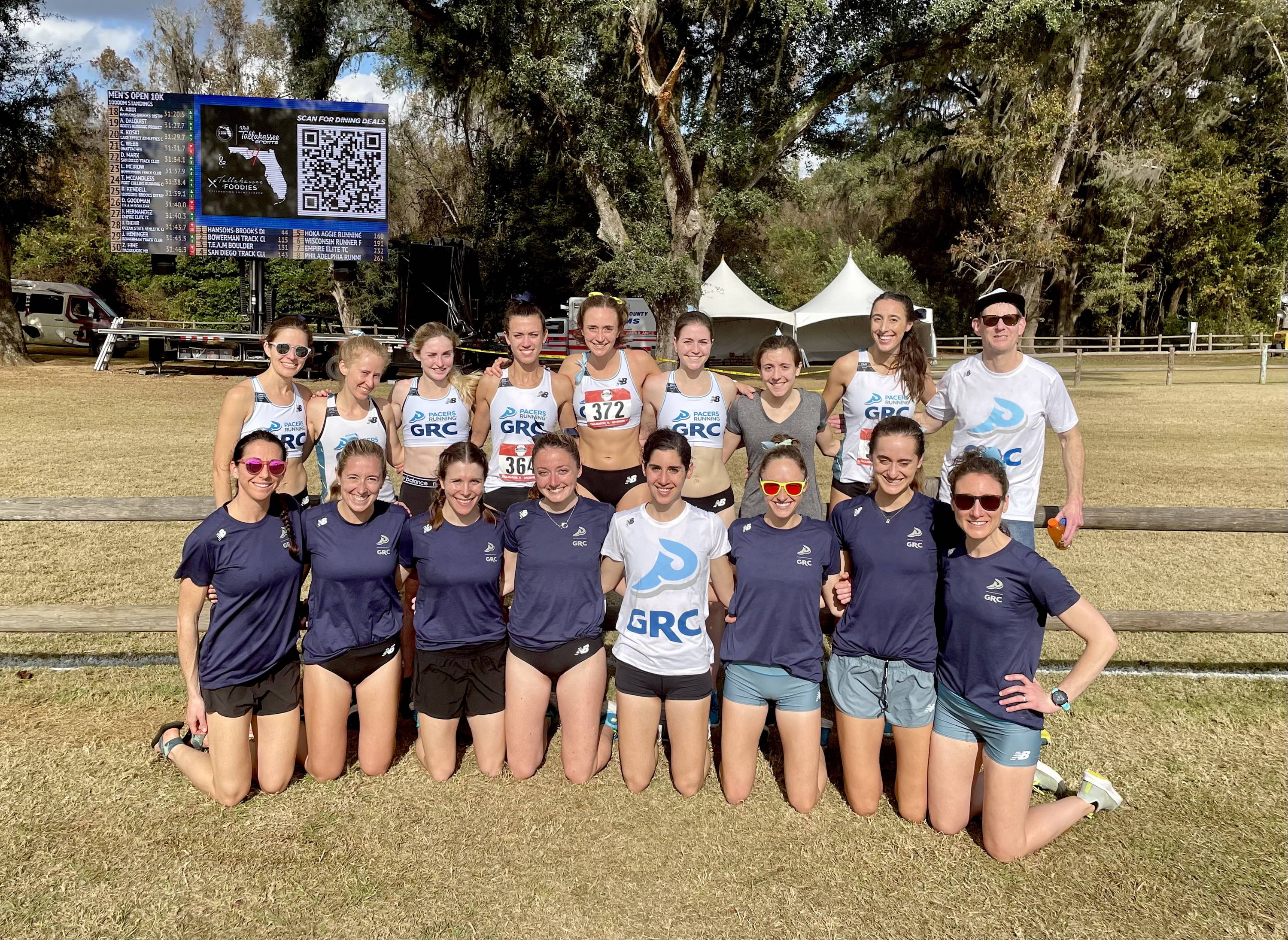 GRC Women's Team
Pacers-sponsored Georgetown Running Club went to Club Cross Country Championships in early December. GRC member and Social Media Director, Alex Doran, and Coach Jerry Alexander recapped the highs and lows of a big week for GRC.
Words by Alex Doran
and Jerry Alexander
Photography by Rob Brook

Being a runner in Washington, D.C. means getting comfortable with a laundry list of the city's quirks: dodging Segway tours on the Mall, navigating road closures for big events, and swimming through the summer humidity, just to name a few. But for members of Georgetown Running Club, an elite racing team based in D.C. sponsored by Pacers Running and New Balance, those D.C. oddities are exactly what make us excited to run here and what toughens us up for fierce competitions like the USATF Club Cross Country National Championships.
This year's club championships were held last weekend on a hot and humid day in Tallahassee, Florida, not unlike a stereotypical D.C. summer day. And while summer humidity in mid-December is far from ideal, it certainly felt familiar. That familiarity and sense of preparation is exactly what gave us the confidence to stand on the starting line with hundreds of runners from across the country and race our hearts out. This year, GRC sent the most athletes to Clubs of any racing team that participated, with 38 athletes crossing the finish line wearing Pacers across their chest, jockeying for position and tackling hills in an effort to create a historic day.
And a historic day it was in Tallahassee.
Our longstanding goal for Clubs has been to get two teams in the top 10 in the same year. With the women finishing an unprecedented 5th and the men finishing a very strong 10th, we accomplished that elusive goal. And for good measure, we put a third team in the top 10, with the masters men making their debut appearance by finishing an outstanding 7th. Since we brought so many athletes, we were able to field full B teams, which also excelled. The women's B team finished an excellent 14th and men's B team finished an impressive 19th, beating the A teams of many of our peer clubs. It was a truly a team effort, and a collective victory.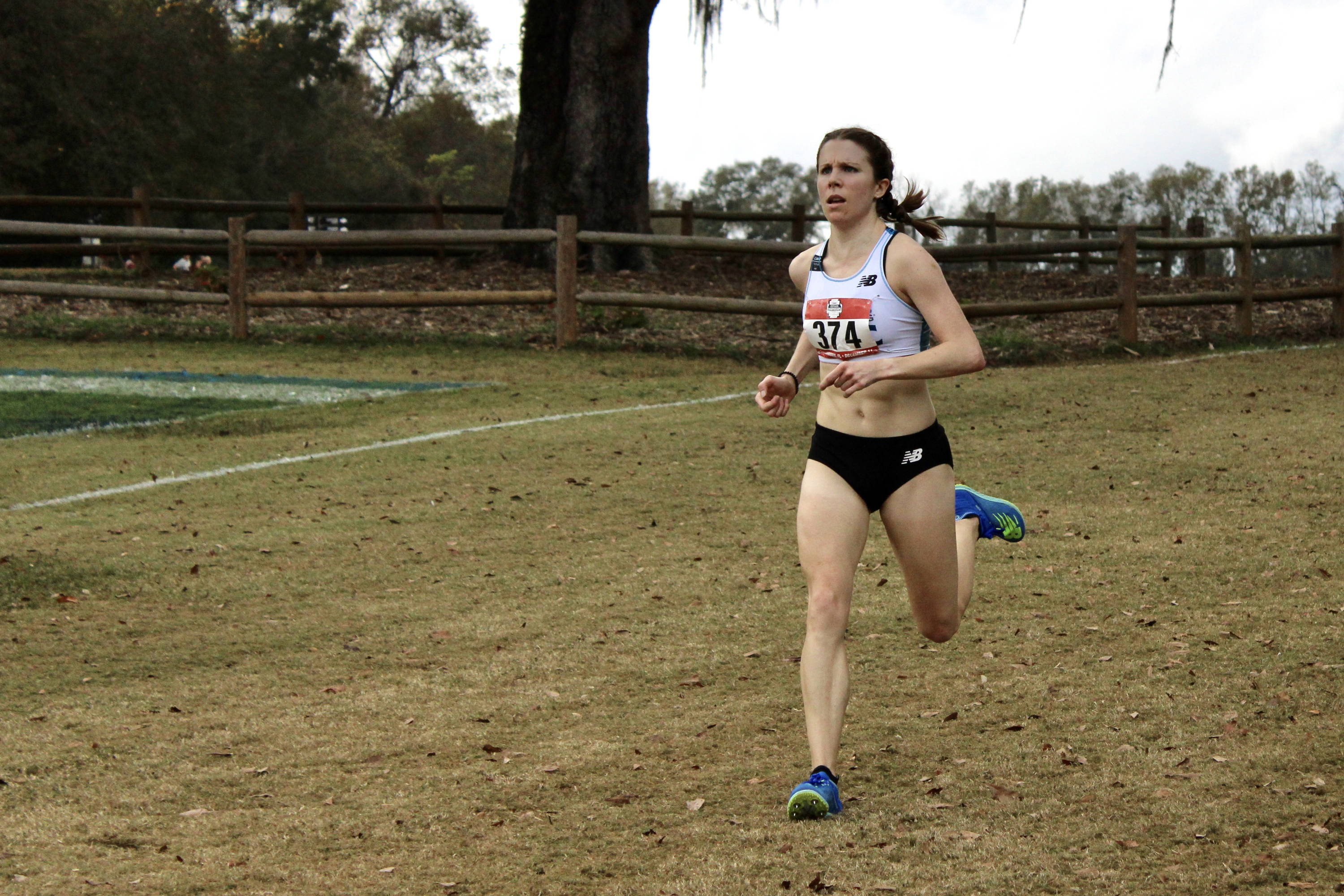 Left: Cleo Whiting Right: Emily de la Bruyere
Ten years ago, we fielded our first women's team at Clubs. We had five athletes, one of whom was eligible to run in the masters race, and our goal was simply to get five across the line. The hard work and dedication of our small band of GRC forebears has paid off in spades, as the women proved on Saturday with their fantastic performance, a record high finish of firth. The women were led by Cleo Whiting, Emily de la Bruyere, Sydney Leiher, Kerry Allen, and Gina McNamara, and the key to the team's success was depth. If Cleo and Emily had not raced, the team still would have finished 10th by scoring Maura Knestout and Frankie Brillante, which is a feat that only been accomplished by the team twice before.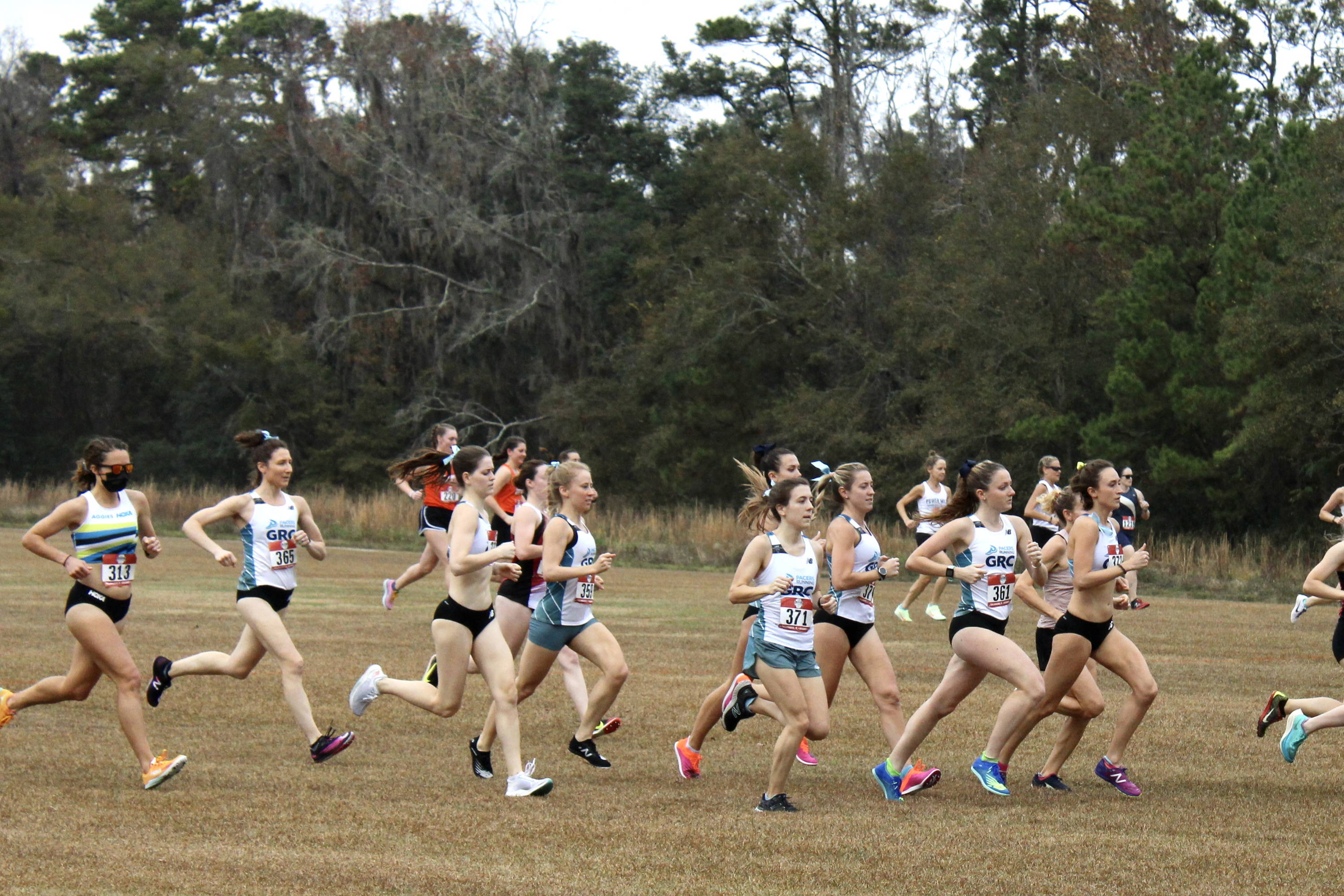 The GRC women running as a pack on the first loop of the 6km course.
Cross country is a team sport, and the team got the job done. Cleo Whiting out-leaned her twin sister at the line to finish 26th, Emily de la Bruyere out-kicked a sub-2 minute 800-meter runner, Kerry Allen bounced back after a marathon PR three weeks prior, Gina McNamara finished outstandingly at a distance almost 4 times longer than her specialty, and everyone managed to get themselves across the line in the brutal heat.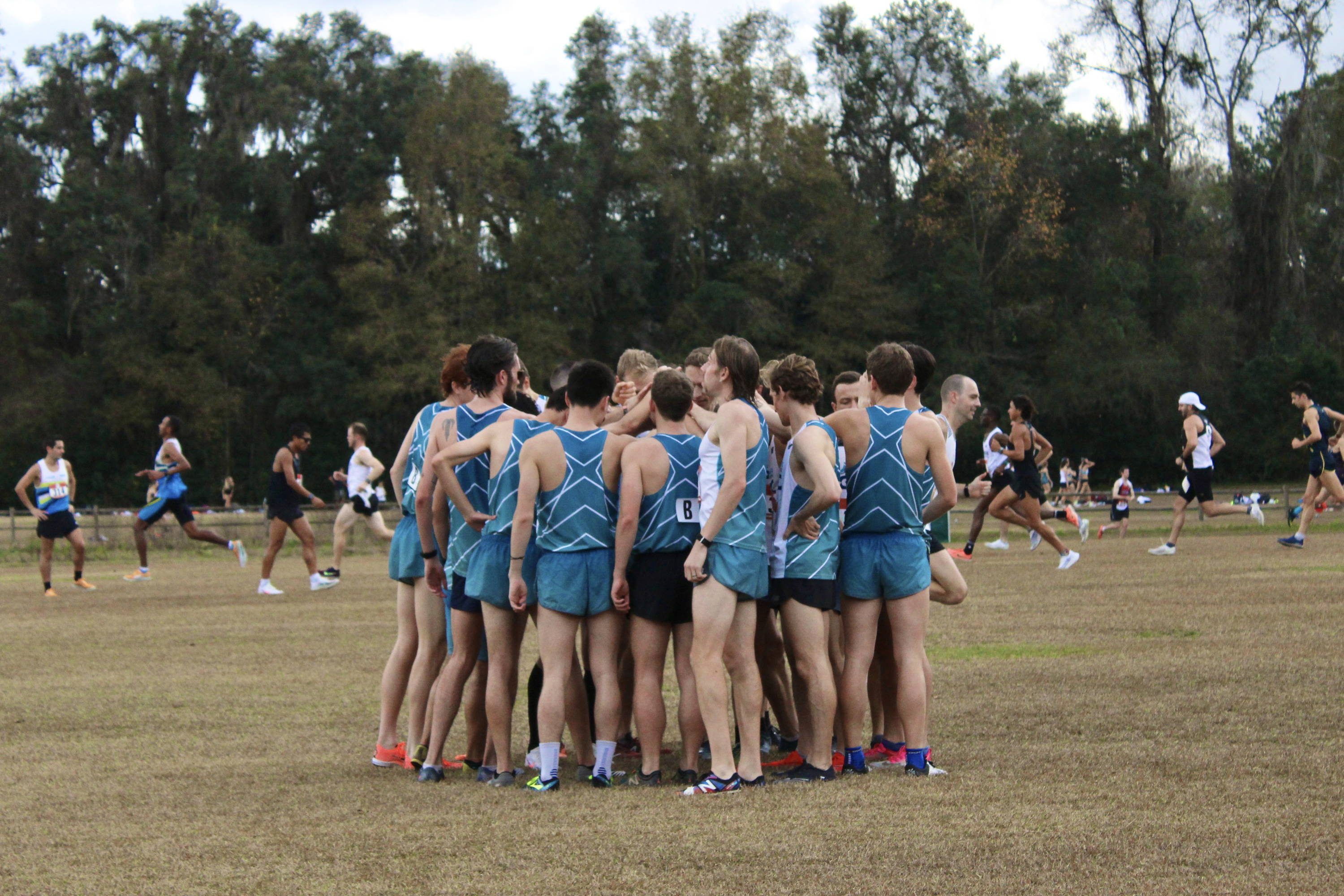 The GRC men's team huddles 5 minutes before the gun goes off.
Running a cross country 10k in the heat is a big ask, but despite the difficult conditions the men rose to the occasion, getting to the finish with grit and a few douses of water mid-race. The men were led by Zach Hine, Keith Carlson, Paul Thistle, Zach Herriott, and Matt Beamer, and the results were also a product of the depth of the team. Cross country is scored using the first five finishers, but our sixth runner, Pat Hanley, secured the 10th place team finish by beating Alamosa Track Project's fifth runner. This is more proof, if any was needed, that everyone who gets on the starting line in a GRC jersey can have an effect on the team's results. Zach Hine placed 30th after running in the lead pack through 7 km, which is the best finish ever by a GRC man by a large margin. Keith Carlson improved on his impressive 65th place finish from 2019, Paul Thistle raced to a top-10 GRC performance despite dealing with training limitations due to Covid, and Matt Beamer raced into our top five despite his training having been curtailed for several weeks due to injury.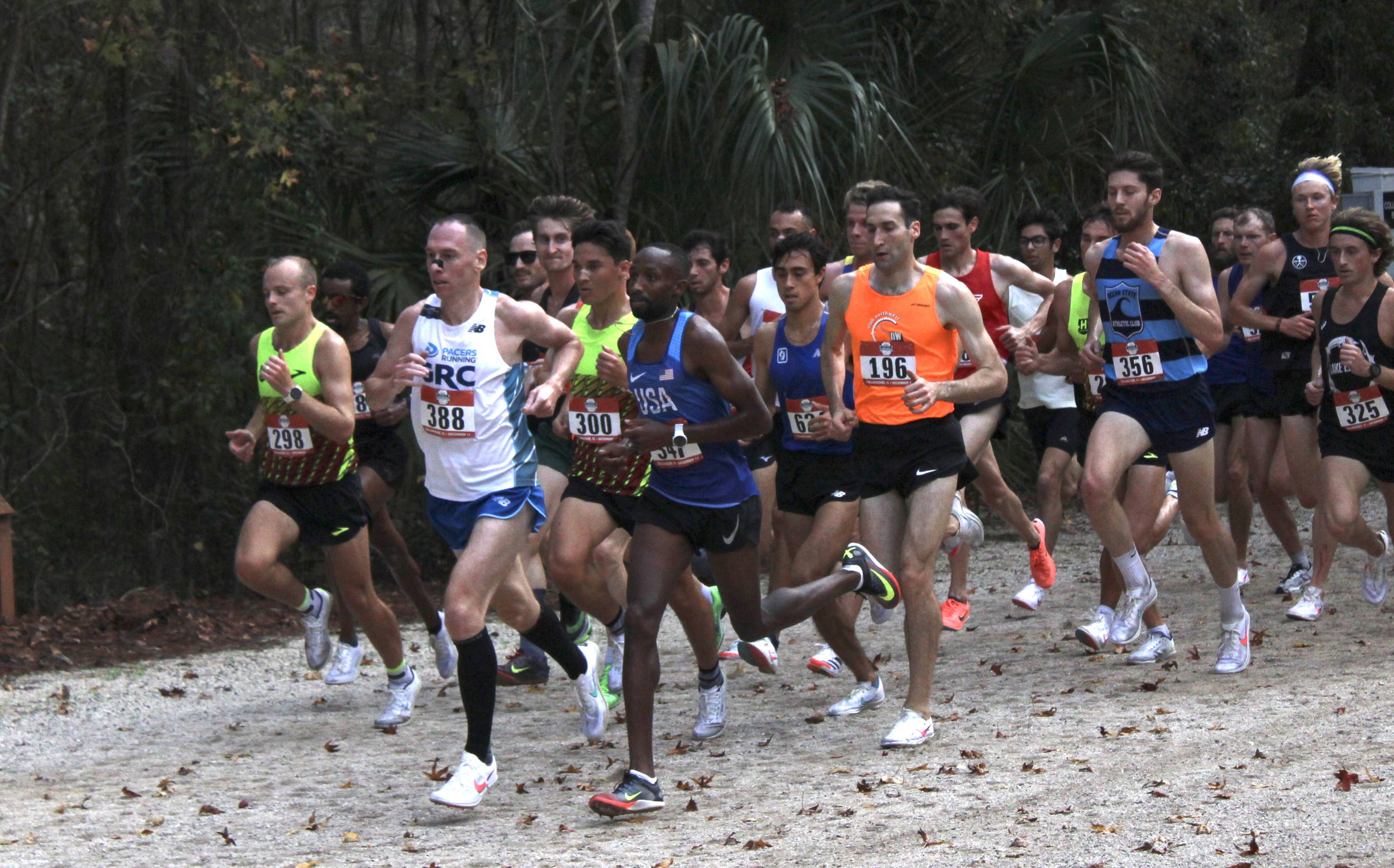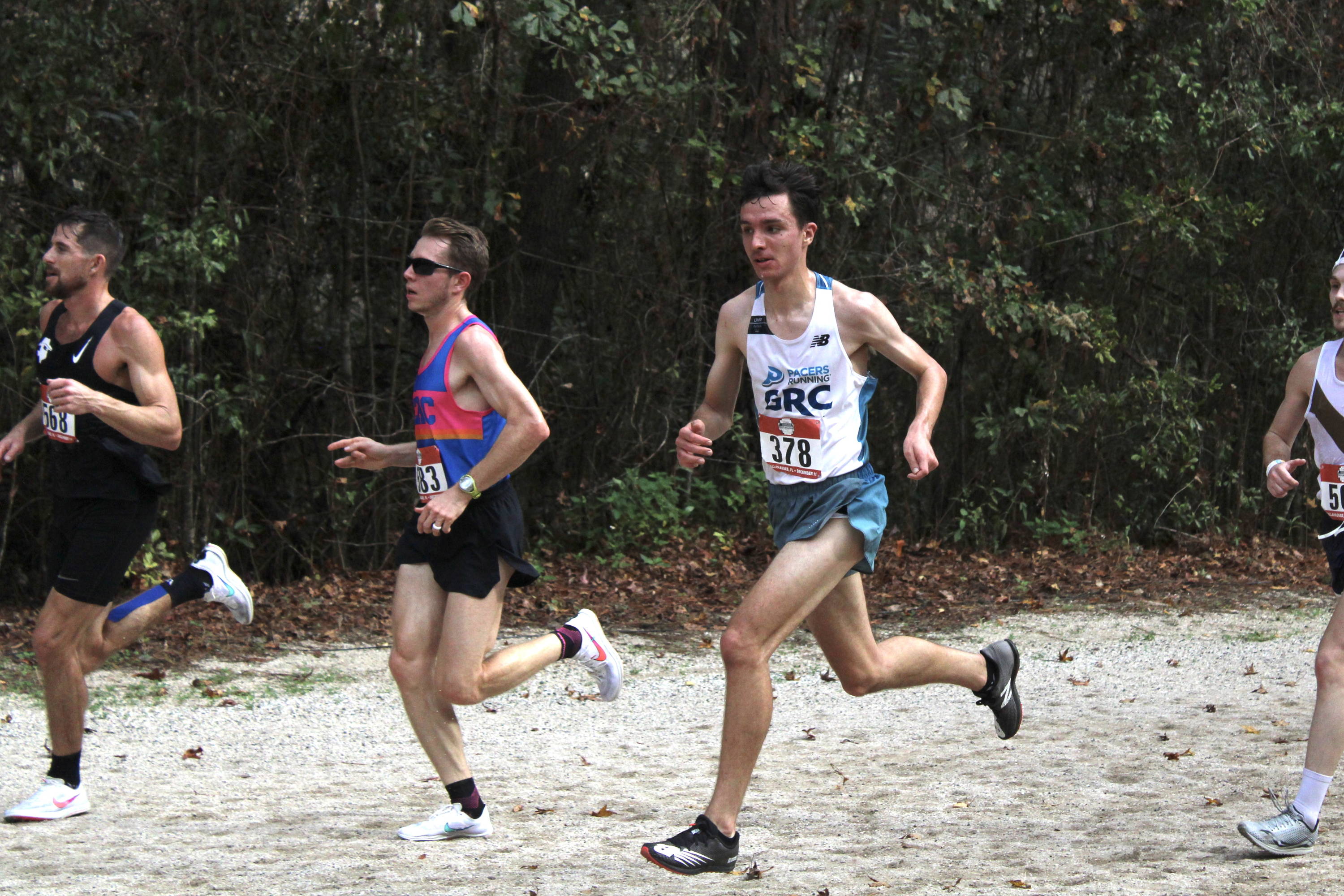 Left: Zach Hine leads the race. Right: Keith Carlson
The masters men hit the ground running with their excellent 7th place finish, and they will be a fixture at the top of the table for years to come as more of our athletes age up. Dave Wertz led the team, finishing an outstanding 17th (and 4th in the 45-49 classification), followed by Joe Borg, Dickson Mercer, Chris Bain, and Brian Young.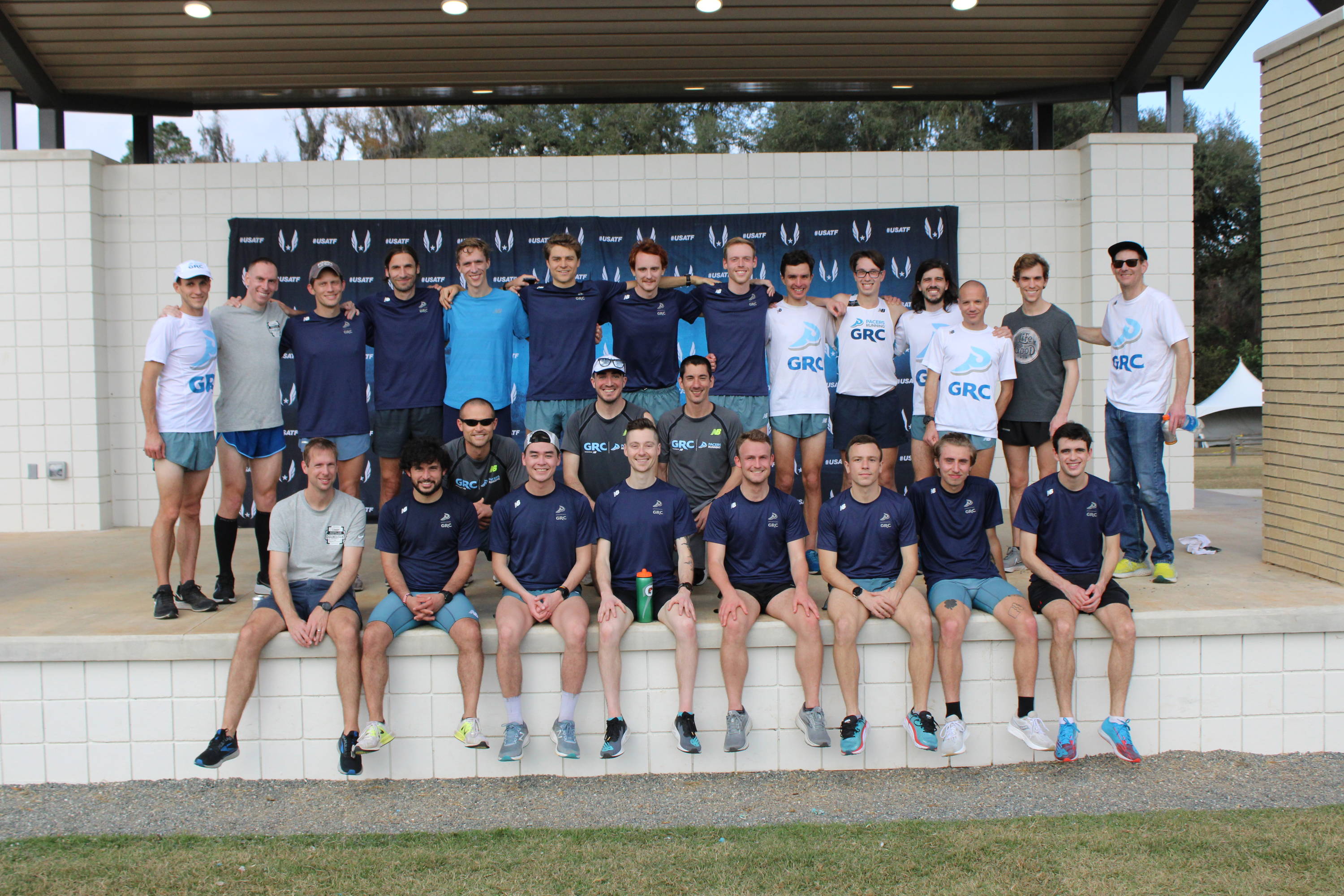 As we leave our monumental Clubs performance behind us and head into the holiday season, we are eager to start putting in work again for a spring full of road and track races. And we're already looking forward to toeing the line at Clubs in San Francisco next year. There is a lot more to come from GRC, stay tuned!
As always, big thanks to our sponsors, Pacers Running and New Balance—none of this would be possible without them.
Full GRC results: https://www.grcrunning.com/2021/12/14/2021-usatf-national-club-cross-country-championships/
Follow the team on Instagram @grc_running and online at www.grcrunning.com